Christmas Cruise & Dinner
€ 90
Out of stock
Description
Join for boat tours in Budapest at Christmas Time
Our boat tours in Budapest provides great opportunities for those who would like to spend a wonderful Christmas time in Budapest. We offer 4-course menu and glass of welcome drink with perfect background tools, such as a classical song of Christmas and a beautiful view of Budapest at night.
Our night cruise is ideal for families who celebrate this event far from home and would like to enjoy Christmas just like home.  Our musicians and singers prepared a special live show which helps you to relax and take a wonderful tour in the Hungarian Capital while you can see the most popular parts of Budapest during 3 hours boat tour.

DRINK PACKAGE
Alcoholic drinks
Alcohol free drinks
Quality Hungarian wines
(From wines of different regions e.g.: Villány, Balatonfüred, Noszvaj)
Juice
Sparkling soft drinks
Champagne
(Sweet and dry)
Mineral water
(sparkling and non-sparkling)
Beer
(Staropramen, Borsodi)
Coffe
Tea
Budapest Christmas Eve Cruise Dinner
Silverline's Christmas Dinner with live piano music serves this very purpose. Our luxurious catamaran – newly built one of the most modern and well- equipped ships in Budapest dressed in Christmas attire invites its guest for a magical Christmas adventure. Budapest by night is a charming sight on its own for guests taking part in a Christmas Dinner Budapest. This is accompanied by rich meals, candlelight and a unique live music show which all aim to guarantee an unforgettable, exquisite experience for the whole family. You all stop for some hours – especially for 3 – and amaze our wondrous lady singing meanwhile professional pianists are playing. The Danube river cruise provides you a lifetime experience by ensuring the opportunity to love all sights of Budapest from another truly special perspective. Onboard you will desire the Hungarian Parliament so near, the historic Buda Castle, the eye-catching Fisherman's Bastion furthermore, some bridges – the main one is the Chain Bridge lighted in the evenings – over your head.
Surprise your loved ones with the perfect Christmas experience. Our Christmas Dinner is also ideal as a Christmas present. Choose some extra items to upgrade your ticket and be more exclusive; besides a private table and tasty candle-lit dinner, unlimited drink package – consisting of unlimited beer, selected exclusive Hungarian wines, many soft drinks, tasty champagne, and hot drinks – and window table are optional.
If you would not like to purchase that package do not worry since everything is available from the menu that needs to be paid at the end of the miraculous cruise. The fine candle-lit dinner includes 4 meals, first, you will start with appetizer – from 2 options you need to choose, a spring salad or burchée bites filled selection of creams with salad – then soup is the next as common – 2 options again, potato cream soup with carrot or the best known traditional Hungarian goulash soup. If you are not against vegetables and meat, you must try it! The main course menu is really full of delicacies, including veal stew, chicken with risotto, roasted trout, duck leg confit or thinking of vegetarians we could offer tofu with a fresh salad or grilled halloumi cheese.
Book your tickets available in a limited quantity for 24 and 25 December. On Christmas nights we await our guests for this unforgettable adventure.

Additional information about Christmas in Hungary
The one holiday that is dearest to people is Christmas. At Christmas night time stands still for a few hours, daily issues and problems seem meaningless and we turn to our loved ones with undivided attention. It is magical, isn't it? And what if this year's Christmas could be even more special than any other? One Christmas when no one must slave away in the kitchen for hours. When instead of having to rush and stress over usual Christmas duties, families could focus on what really matters: love and moments spent together. That is the exact reason why our company has created the cruise on Christmas days, too for many years.
People are in a so-called Christmas shopping fever! All supermarkets are crowded and many have just begun to purchase gifts and things to cook. Everyone rushes all year long, even before Christmas, just to make sure there is 1kg of meat on the table or another pack of Christmas candy. We are always running, shopping, cooking, baking and so on. That's exactly not what we should do on this special holiday. Maybe once a year we need to have a calm, blessed, peaceful, full day of love. Let's spend it together without rushing for gifts, cooking many dishes and getting ready for the night to support all family members. Let us be surprised to finally serve us once a year, the professional chef will cook the food for us and the kind staff will serve it. Surely, we must enjoy a fantastic piano show in the evening while looking at the wonderful Budapest.
According to the official "definition" Christmas is the largest and most significant Christian holiday after Easter to commemorate the birth of Jesus. Christmas might mean something different from everyone. Some desire its holiday sense for only gifts, some signify family and others believe in its "definition". Actually, for everyone Christmas is a feeling. Hearing Christmas songs still at the end of November is wondrous, dressing up the house in festive decoration, on the TV Santa Claus song is going on non-stop. We all love it. It is Christmas. The most memorable days in the entire year to stop, celebrate, be with loved ones and only live happily. The vicious circle of busy everyday life is now over. Time stops and we all breathe calm. Setting up a Christmas tree, Christmas music in the background, watching Christmas movies, relatives are arriving, having festive meals together, giving presents… all is about Christmas as magic; a feeling of holiday. A celebration of warmth, happiness, love. The process and mood now are different, having time enough for really being together, reliving the beautiful moments.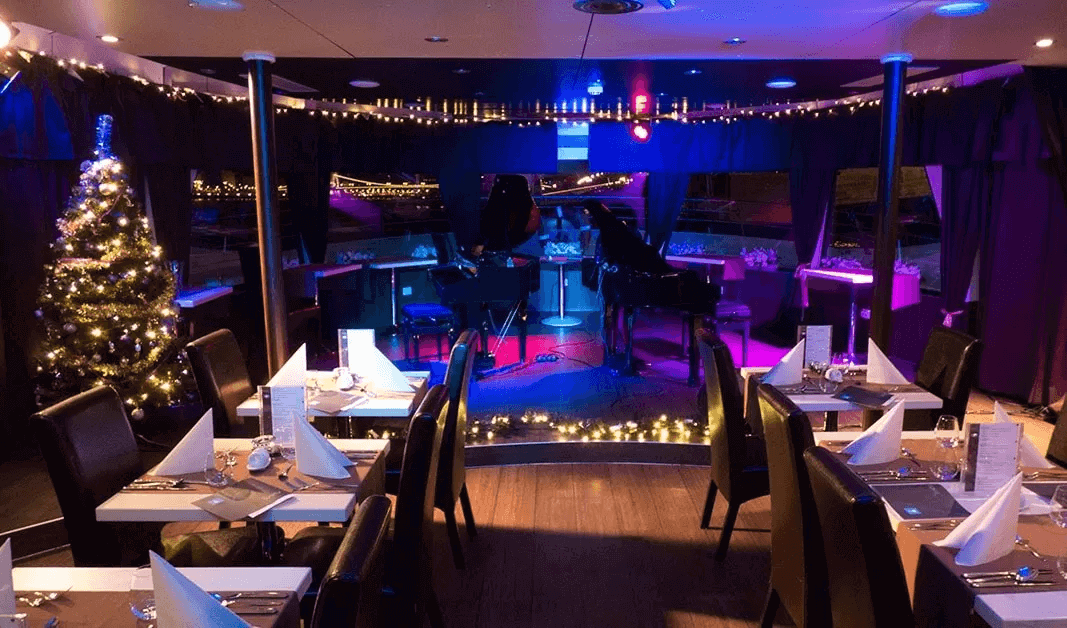 Book your Christmas dinner today to secure the perfect Christmas gift for your loved ones
Once you leave your yearly tradition of celebration and form the whole Christmas period in a new context! Imagine yourself on board on the Danube on Christmas Eve. Discover the historic and cultural treasures of the Hungarian capital, dropping in its history for a while; this extraordinary cruising will also be perfect for a Christmas present that will make your evening truly unforgettable. The boat departs at 7.30 pm, giving you a great opportunity to admire the night lights of Budapest. Above all, you can enjoy the majestic flavors of a brilliant festive complimentary dinner while Christmas music is able to create a peaceful atmosphere around you. And that's not all, night cruising is a lifetime experience! Close your eyes for a moment and imagine the soft piano music on a ship dressed in Christmas decorations and the night lights shining in the background. Furthermore, you can taste our local drinks, home-made Hungarian wines under candlelight. While you are cruising, you will be able to see many much-to-be-admired sights of Budapest, such as the Parliament, the historical wonders of Buda, such as the Castle and the Citadel. Let's not forget the most spectacular sight looking at them from a comfortable seat, providing a special perspective. Additionally, you can admire the old and newly built bridges of Budapest, of which splendors are breathtaking in the dark of night.
Do not miss out on this unique and outstanding opportunity to get your place on our Christmas Dinner Cruise online! Choose from a great number of variations to find your proper ticket and demand. Christmas is only once a year, make it really intimate and spend it on board. We welcome you on the 24th and 25th of December every by year! Since Christmas Dinner Cruise is the most popular program available in December, we would like to attract your attention that our tickets are limited in number.
Book online as soon as possible!