Valentine's Day Cruise Budapest
€ 90
Description
Romantic Program in Budapest – Dinner Cruise at Valentine's Day
Exploring the city on board
Would you like to make an original day fancy? Let's have a live piano battle show by a Danube dinner cruise!
Budapest river cruise on the Danube river gives the best opportunity to discover the whole of Budapest during the 3-hour cruising, getting an unforgettable experience. So you might not take long walks on foot, by bus or car rent since on board from one perspective, sitting in comfortable chairs, you will have the possibility to amaze all famous sights lit up at night, clinking with a glass of champagne as a free welcome drink to all good things happen with you in the future. Enjoy the romantic night river cruise as the easiest and most proper solution to explore well-known fascinating historical buildings. Meanwhile having the impressive sightseeing tour, Danube dinner cruise will allow you to get relaxation with tasty dining and amazing live piano battle show on board.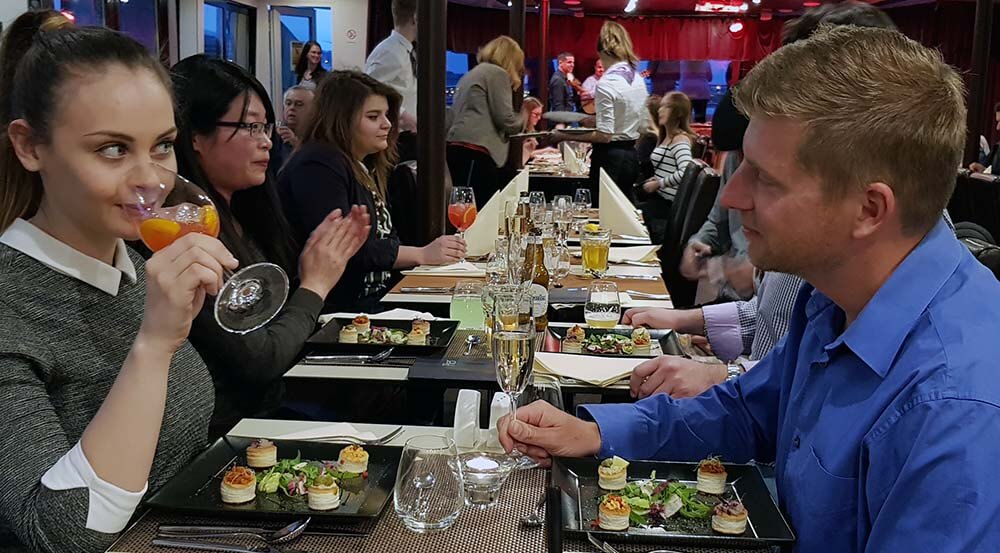 DESTINATIONS
Boarding commences at 6:55 p.m. Departure takes place at Dock Nr.11 at Jane Haining Rakpart, Budapest, next to the Elisabeth Bridge. We are heading first towards North, then turning back to South and passing the Liberty Bridge, Petőfi Bridge, and Rákóczi Bridge on our way. You are able to observe several famous sights of the city during your Budapest dinner cruises, such as the Parliament, Buda Castle, the Matthias Church, and the Gellért Hill. Arrival time at the boarding point is about 10.30 p.m.
ROMANTIC PROGRAM OF THE EVENING
Upon arrival, you are awaited by our beautiful hosts who help you find your table. As soon as you have settled down welcome drinks are served around by our waiters and waitresses. Meanwhile, you observe the awe-inspiring scenery and get engrossed in a conversation with your partner our menu card arrives. You can basically choose from an extraordinary 4-course dinner, all the dishes from them are really mouth-watering and irresistible to try.
Our master of ceremony, a lovely host lady, will greet you and explain all the necessary information about the ship and the evening program of this special Budapest dinner cruise. Provided you have missed out something or just have a question about the evening, feel free to contact her and she will be more than happy to provide the appropriate answer. You can find her all evening since she is the responsible one for the guests' good mood.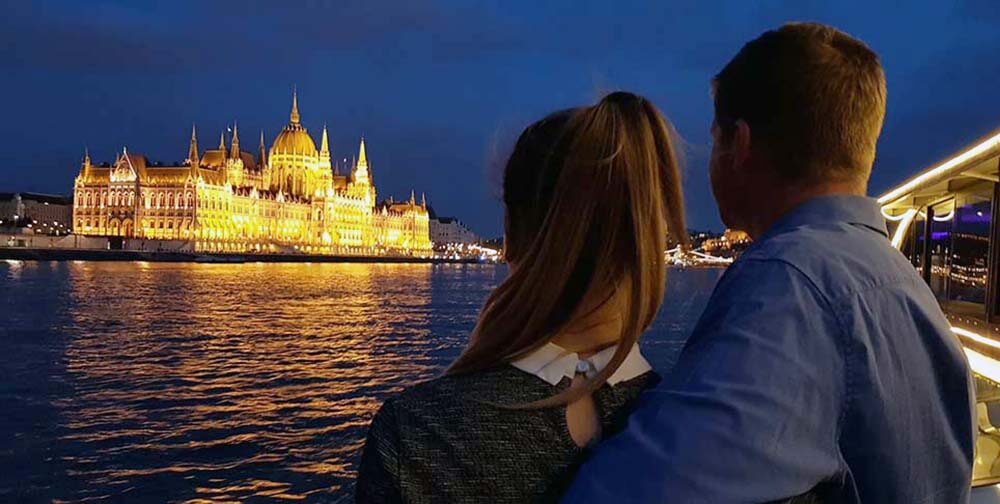 WHY IS PIANO BATTLE SHOW IDEAL FOR VALENTINE'S DAY?
Our talented musicians play during the whole evening well-known melodies and romantic love songs as a live piano show. At some point, a singer joins the duo to boost the atmosphere of the audience and the tension of the two-piano competitors. Sounds unbelievable? Well, it's quite a unique experience to see. The pianists also make mistakes to show their own talent; and by building a rivalry between each other a fascinating atmosphere is created during the listeners full of humor, emotions, and joy. Therefore, it becomes a real entertainment show, an unforgettable night with the best melodies.
DINNER MENU AT VALENTINE'S DAY BUDAPEST
Foreign guests are always having pleasure in the 3-hour trip so it is perfect to see how they love piano show performed by talented musicians, pretty songstress, the 4-course dinner and of course, our most modern luxurious catamaran. However, we are in "just" Budapest but nobody tells whether shipping in London or another metropolis. Would you like to wonder and be introduced by a lifelong experience? As already mentioned, the Danube dinner cruise includes the 4-course delicious dining, filled pastry baskets as appetizers and two kinds of soups from which you are able to choose optionally first a traditional Hungarian goulash soup or potato cream soup with a carrot curl topping
Additionally, from the six main dishes – four with meats and two vegetarian – please at the beginning of the trip, select ones like trout fish fillet with dill sauce and mashed potatoes with steamed green bean, duck leg confit with steamed red cabbage and grain potatoes, of course, do not forget the chicken breast slices with the risotto or the traditional tender beef stew with pearl barley. Thanks to vegetarian people, you could decide whether to love eating grilled Halloumi cheese with vegetables or tofu with a fresh side salad. The three dishes from the four are served during the first one and a half-hour of the cruising; therefore, the awaited dessert as Flan cake with fruit sauce is available in the second half.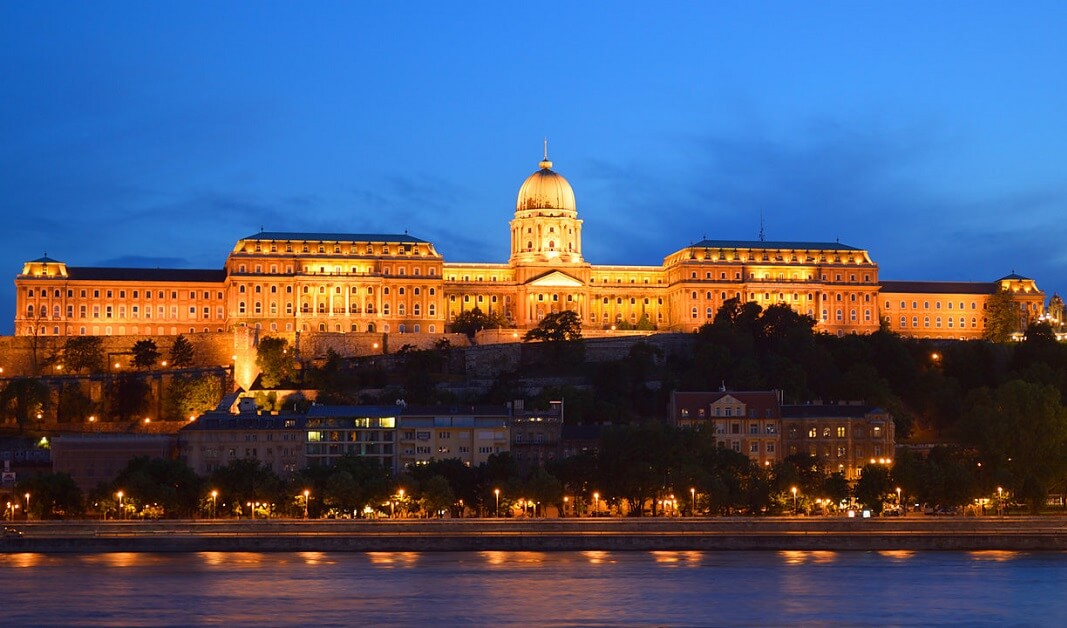 Finally, do not miss out on the unlimited drink package, including alcoholic and non-alcoholic drinks that can be purchased here or upon arrival on board as well. You can enjoy your favorite beverages during the whole dinner cruise. There are plenty of options like unlimited glasses of selected Hungarian wines, unlimited beer, unlimited sparkling wine (sweet and dry), unlimited soft drinks (including mineral water, fruit juices and fizzy drink as well) and unlimited hot drinks (coffee and tea selections). In case you are willing to pay for your actual consumption, it is also feasible. You are allowed to choose from our long beverage list including refreshments, sweet cocktails, famous Hungarian wines, champagnes, beers (Staropramen and Borsodi) or hot drinks.
Make a Budapest river cruise journey, get together with your friends while staying in our beloved town and get some knowledge about our traditions, the way of life, raise your cultural and historical skills provided by a panoramic view of Budapest. Let's take a cruise on the Danube to amaze all the interesting buildings you want to reach somehow on foot or by bus. Make your night special and elegant by sightseeing shipping as the most ideal way to feel comfortable and beauties on the most modern catamaran in Budapest. Or looking for a romantic night out with your love? A candlelight dinner with classic and romantic music is always a good choice. Surprise yourself and your partner with an amazing experience on the famous river, the Danube. In case you are thinking of the exact place where a birthday party, wedding anniversary or a unique event could be organized or simply spend Christmas evenings or New Years' Eve please purchase the wanted ticket or contact us to arrange everything by us.