BUDAPEST RIVER CRUISE & FOLKLORE SHOW – UNMISSABLE PERFORMANCE
As a first-time tourist in Budapest, you look forward to making the most of your Hungarian experience, and we cannot blame you for that. Besides marveling at historical sights of the city center and indulging in delicious local food, participating in Hungarian folklore music and dance show is the most authentic way to get a glimpse of this country. Budapest River Cruise offers all at once: a boat tour over the Danube along with the glorious sights of riverside Budapest, a 2/3/6-course premium dinner and a performance of Hungarian folk dancers. In case you stay for only one night in Budapest, this is how you make the most of it!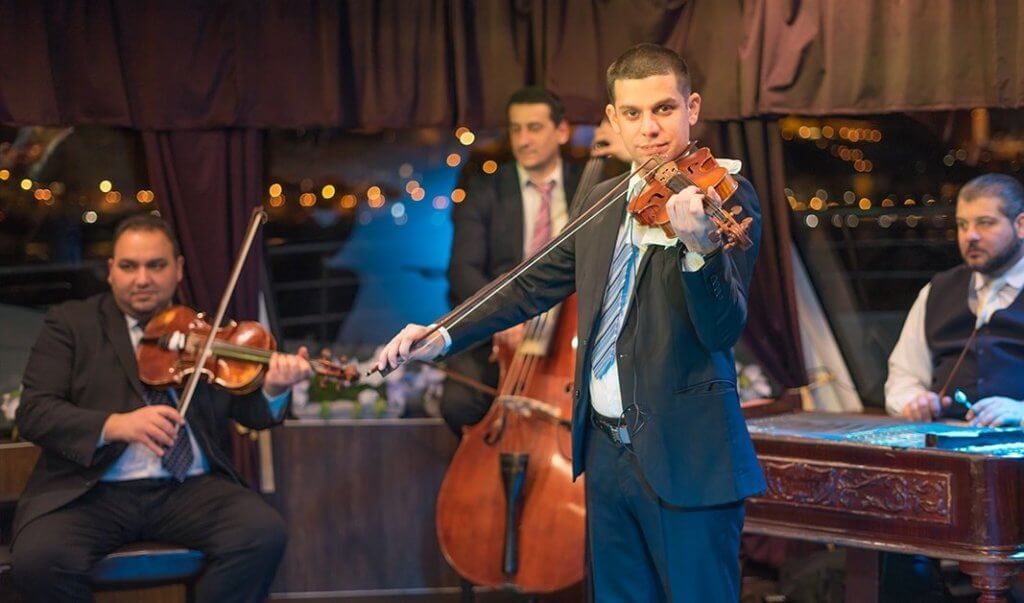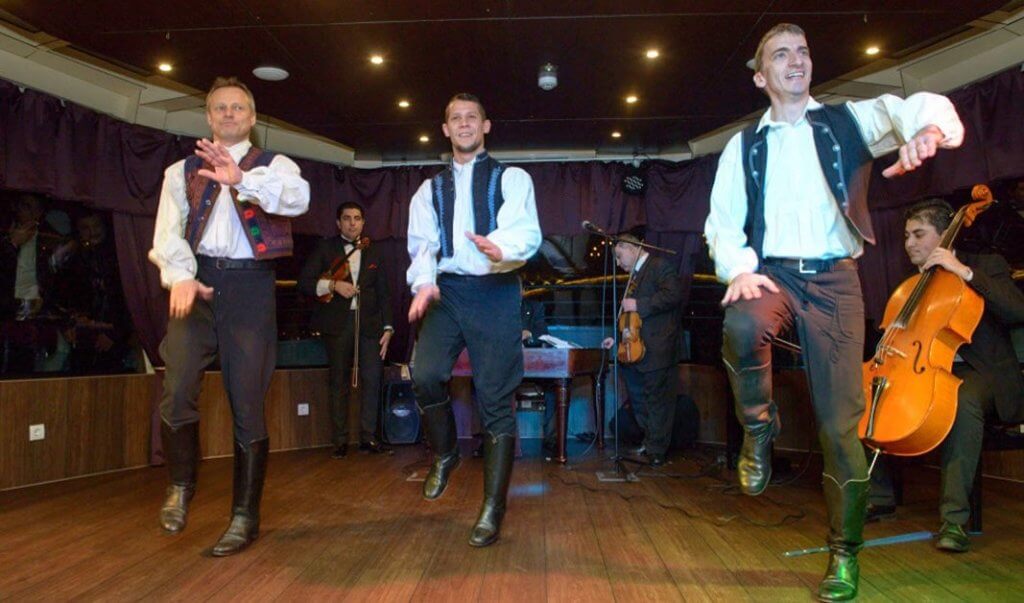 Night Budapest River Cruise – 3 hours Tour on Danube river
While enjoying the cruise, you will be served a 2/3/6-course dinner full of Hungarian specialties. We are committed to delivering the ultimate dining experience to our guests. On request, you may choose from our vegetarian, vegan, gluten-free or dairy-free options, along with traditional Hungarian dishes with meat or fish. Your ticket also includes a welcome drink (of your choice), so enjoy a glass of bubbly champagne, sparkling wine, Hungarian palinka or soft drink!
| | | |
| --- | --- | --- |
| BOARDING TIME | DEPARTURE TIME | ARRIVAL TIME |
| 19.00 | 19.30 | 22.30 |
The highlight of the evening will certainly be the Hungarian Folklore Dance Show.
A group of dedicated professionals, folklore dancers and musicians will make sure to present a real Hungarian atmosphere. Our folklore dance ensemble will be accompanied by two talented operetta singers. In order to preserve an age-old Hungarian tradition, folk dancers put on costumes and perform their colorful repertoire. The best part of the evening is the special 15 minutes show during which Hungarian folklore dancers will teach a few dance steps to our guests.
Your boarding place is on the Danube Promenade, near the gorgeous Elizabeth Bridge, around Dock 11. The Danube Promenade is one of the must-see places of downtown Budapest. Located on the Pest side of the Danube, it is an extended route between Elizabeth Bridge and Chain Bridge. Moreover, it is home to famous hotel chains, cafes, and restaurants. The Pest riverside is full of historical sites such as Vigado Concert Hall or the Hungarian Academy of Sciences. As Budapest River cruise is sailing over the Danube, you will have the opportunity to witness all the beauty of Danube Promenade. The Buda side of the river is equally magnificent – the entire Buda Castle district is worth taking thousands of pictures.
(By the way, we do offer free Wi-Fi on board so you will have no trouble posting your Budapest adventure on social media). The Royal Palace of Buda is visible from every part of Budapest. It has been destroyed and rebuilt several times during Hungary's rich and eventful history. As one of the landmarks of the capital, the Royal Palace is displayed in postcards and calendars, along with sites such as Matthias Church or Fisherman's Bastion. The icing on the cake will definitely be the Chain Bridge with its guarding lions and the Hungarian Parliament with its glamorous lights. Cruise Budapest brings you a panorama that is hard to forget.