Budapest Night Cruise on the River Danube with guidance and dinner!
What can a Budapest river cruise on the Danube offer to our guests?
The perfect relaxation, a unique experience and a pleasant memory.
The cruise provides not only the experience of sailing but also an eternal memory and a special feeling. You will also receive the pleasing feeling and the relaxing energy of the water while sailing.
The magnificent view of Budapest with the bank of river Danube and several historical buildings invites you on a cultural and pleasent journey. For example, you can adore the breath-taking building of the Hungarian Parliament, the beautiful cupola of the Castle of Buda, the Matthias Church and the magnificent bridges of Budapest from the deck of out catamarans. During our dinner and sightseeing cruises, we pass under some of them. Choose between programmes from our website which offers several cruise programs on the river Danube for our visitors, provided by companies, like Silverline Cruises.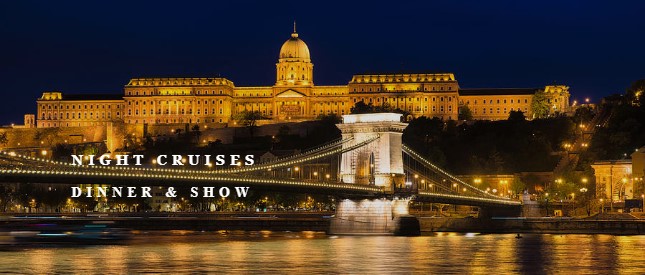 What can a Budapest River cruise provide? What would you receive from it?
Hungary is worthily famous for its tourism. Several tourists visit our country from year to year, and they adore the most beautiful and famous cities in our country, taste the national dishes, or try the noblest Hungarian wines. Sometimes we, Hungarians, may forget how lucky we are. Our country is full of beautiful natural places and also marvelous buildings and other spectacles. Although we live here, we often forget to enjoy all this treasure which is so near to us. If you choose our Budapest Night Cruise, you can take a glance to the everyday life of the city like a bird which flies above the bank of Buda and Pest and the monumental buildings. You can adore the city with several cars and people. Furthermore, the night lights of Budapest always fascinate our guests. A Budapest Cruise is an inspiring experience not only for foreigners but also for us, Hungarians.
Budapest Night Cruise
How can we enhance this adventure? Can the smell of the water, the sight of the lights and the buildings, the whole historical experience be enhanced at all? Our answer is simple, yes! We can enhance all these delightful experiences! The crew of Budapest Dinner Cruise and Live Folk Music will take you to an unforgettable experience. Why is our unique cruise more special than an average one? Well, a simple day or Budapest night cruise takes 70 minutes. Most of them make only one round in the city however, provides a great adventure during it takes. However, if you choose our Budapest river cruise, you will enjoy the view from an absolutely unique aspect. While our catamaran is passing under the Chain Bridge, Margaret, Elisabeth, Petofi, and Liberty Bridges, you can make memorable and absolutely spectacular photos about yourselves with the most famous buildings of Budapest in the background. And we can still enhance the experience! We offer live music shows and multi-course dinner, so we guarantee that all of your senses will enjoy our program.

Our programs are available in the frame of the Traditional Folklore and Operetta Show, or you can enjoy well-known Hungarian music performed by a Gypsy Band. Some of our cruises provide a unique live music piano show, during which world-famous pianists' play will transport you to a marvelous universe. On this program, our hostesses will take care about your comfort, and also entertain you with songs.
This Budapest night cruise with the live piano show may be an ideal program for anniversaries or marriage proposal. Are you preparing for Valentine's Day, but you are fed up with the average sites?
Then our romantic dinner cruise is the ideal solution for you! Choose us, and surprise your sweetheart with a rose as the symbol of eternal love in a special milieum.
Our sightseeing cruises offer a menu or buffet meal, and you can always choose from two or more courses. You can try exotic dishes, but we can also satisfy your requests in case you are vegetarian, perhaps if you would like to eat signature Hungarian or meat-free dishes. Are you still hungry? No problem! A delicious meal cannot end without a delicious dessert. Hungarian and foreign groups often book a cruise as a site of a team building program or a business meeting. We recommend our Hungarian Folklore Show if you are interested not only in sightseeing and Hungarian dishes, but also would like to get to know the traditional Hungarian dances with magnificent traditional Hungarian costumes. You can even try an exelent quality Hungarian brandy (called palinka). During this Folklore Show, our guests may receive a short training about some main steps of Hungarian dances, even they are able to try them with the help of our professional dancers.
Is it worth visiting Budapest?
Many reasons could be mentioned about why Budapest, the Hungarian capital, is worth a visit even falling in love with it. Lots of foreigners and the locals have great pleasure in exploring its incredible sights, hidden landmarks, wondrous buildings, and cultural life. Probably, the best way to discover each of them is to choose a Budapest river cruise program. Let's enjoy the impressive monuments such as the Hungarian Parliament, Matthias Church or Gellert Hill from another perspective of sightseeing – especially, on board, from a well-equipped safe ship –, choosing that vehicle to travel several times a day.
ROMANTIC MUSIC ON BOARD – IDEAL CRUISE FOR COUPLES & FAMILIES
So, in case you travel to Budapest once, you will have the opportunity to choose a river cruise program, providing unforgettable experiences. On the one hand, enjoy the most exclusive one, called Piano Battle Show as a live entertaining event offering a romantic night with a 2/3/6-course fine dinner (including first, a glass of champagne as a welcome drink then appetizer, soup, main dish and a delicious dessert – have the chance to select from many types of food) and tasty wines, unlimited drinks meanwhile gazing at our professional pianists and a female singer having a "battle" truly on a luxurious ship cruising on the river Danube.
Nothing could be more amazing than having sightseeing and wondering on gorgeous buildings whilst being amused by the impressive piano live show and toothsome candlelight evening meal served by our kind staff.
TRADITIONAL HUNGARIAN FOLKLORE DANCE & SHOW
On the other hand, you will get the possibility to take delight in our live Folklore and Operetta show. Experience is similar exactly as the Piano Battle Show but the program is a bit something else. We could offer you to get some knowledge about the Hungarian folk culture, way of behavior consisting of dance, songs and musical instruments even you will be able to try some folk steps taught by professional dancers on the stage. Admire their folk traditional costumes dressed in and enjoy the fascinating panorama, many delicious dishes provided by our 3-hour Budapest river cruise program. The best option to choose it in order to grant memorable moments for your loved ones.